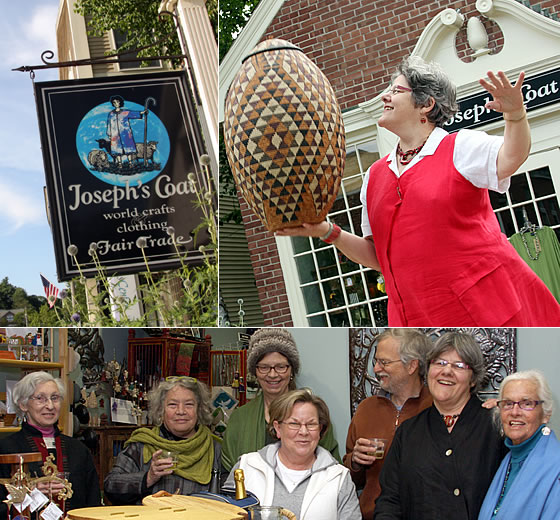 Our Story
Françoise Bourdon has been the proud owner of Joseph's Coat since 2006. The shop began when two women, both passionate about textiles, took their idea and turned it into one of the oldest, and certainly one of the coolest shops in the Monadnock Region-- home of the second most climbed mountain in the world. Climbing Mount Monadnock is a right of passage for local school children, and a favorite subject for painters near and far.
Peterborough is a former mill town that retains the charms of an early New England village. This leafy, southwest corner of New Hampshire is famous for its arts scene, brilliant autumn foliage, historic inns and natural beauty. It is a destination for foodies, outdoors enthusiasts and shoppers.
Peterborough residents are proud of their small town that welcomes visitors from all over the world. Annually they greet Tibetan monks walking about town in their saffron robes. The Monks are guests of the Mariposa Museum, a cultural museum which was founded as a companion organization to its older sister, Joseph's Coat.
In the summer of 1980, Linda Blair and Shelley Osborne launched Joseph's Coat in the former Baptist Church in downtown Peterborough, a place where people who loved textiles found their tribe. Accomplished sewers and knitters and those who wanted to learn, gathered for lessons and sewing parties.
It was an auspicious day in the Chinese calendar, 8/8/80, all those lucky numbers suggesting it was the perfect day to start a new enterprise. Linda Marsella and Shelley Osborne proved a powerful team, combining Linda's knowledge of quilting and Shelley's genius for fashioning custom folk wear and special dresses. Performers from the then-famous Folkway Cafe and music venue went to Shelley with custom orders.
After a New Year's Day fire gutted the old Baptist Church in 1999, Joseph's Coat moved to Depot Square and later to its current location in what used to be a bank. In the heart of Peterborough, Joseph's Coat is within walking distance of restaurants, museums and galleries. Joseph's Coat still attracts those who love textiles: batik wraps, felted bags, flax, linen, silk, cotton and other natural fiber clothes. Also, traditional Javanese table cloths, tapestries, rugs, embroidered pieces, and mud cloth from Mali.
The staff at Joseph's Coat is unlike that of any other store. Rather than salespeople, they more closely resemble museum or gallery curators. There is no routine re-stocking of shelves. Nothing is routine, when the inventory is ever-changing and items must be rearranged to make room for more. On Tuesday, Françoise and her curators may move the African drums to make room for a new shipment of baskets. Margaret may move the camel saddle bag, to make room for new puppets. New creations arrive each week from all corners of the world.
Customers often spend an hour or more taking it all in, asking questions and learning the stories behind the 600 year old glass beads, the small gourd rattles or the hand-carved wooden bowls and toys. Françoise's staff has been there longer than she. Co-founder, Shelley Osborne remains, as does Margaret Groesbeck a former middle school teacher, and weaver Connie Gray. The women move gracefully among the thousands of items from all over the world. As many as sixty-five nations have been represented in this shop. Woven purses, jewelry, Japanese robes, hand puppets, baskets, musical instruments, religious icons and statues, ceremonial masks and bowls fill tables and shelves, floor to ceiling.
Just around the corner is the Mariposa Museum a sister organization started by Joseph's Coat's co-founder Linda Marsella, a year after the 1999 fire. Linda dreamt of opening the museum of which Joseph's Coat would be the natural museum store — and so was born the Mariposa Museum of World Cultures. Its mission is to reach the citizen and child of the world in each of us, touch that natural sense of curiosity and sense of wonder in all that is different, rather than fostering fear or dislike of differences.
"The world will know more peace when we all realize we are one, global citizens--citizens all. We try to teach this through sharing joy — art, dance, music, costumes, foods of many cultures," Linda said. Linda died in 2007 and left a legacy of peace, tradition, art and understanding.
Françoise continues Linda's work and has brought more craftspeople from around the world into the Joseph's Coat family. A native of Quebec, Françoise understands what it is to have your culture threatened. She is a protector, using her and her customers' buying power to support small crafts industries in villages and town that previously lacked access to international markets.
"The women have the most to gain by getting their goods to market. In the developing world, women often lack status and are kept down. But the women who produce textiles or other crafts for market are finding their power," Françoise said.